CTD342
My son and I were talking the other day about events in our lives and why some stand out in memory while often many fade into memory, seemingly insignificant. However, I read somewhere that it isn't the significance of the event, but the emotions connected to the memory that are somehow awakened and bring back the memory.
I think that may be true of the events that sparked the creation of these two cards today. I have trouble with memory all the way around but never mind that for today…This Color Throwdown card is for the birthday of our second oldest daughter.
She was once at a fine arts camp where she played Eeyore in a production of Winnie the Pooh. It was so, so funny and I can remember at one point where she was talking about the red (deflated) birthday balloon, and she cracked just the slightest smile when the audience laughed. Why I remembered that this morning is beyond me. I think I'm going to throw a red balloon on the inside of this card, just for good measure.
My second card is for my grandson, who turns 4 next week. Boys love trucks! I was inspired by construction board books that he loves to read when he's here. This was such a simple card, squared to 4 1/4 inches, with layers of yellow and black. The truck is cut from Cricut, The First Few Years cartridge. I stamped "Hope you have a day full of…FUN" on the inside.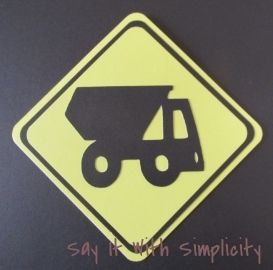 Stamps used:
Hope you have a day full of…
HAPPY
FUN
Just Sayin'
Happy Birthday
Inks:
Lagoon, Smoothie, Gold Rush, Canary, Slate, Black
Cardstock:
Paper Fundamentals Enchantment
Accessories:
Teal and Red Shimmer Trim