Good Saturday afternoon! Wasn't this color throwdown a fun one?! I've been enjoying all the neat cards. Nice and bright for summer.
I was so excited when the new Taste of Summer pack from Close To My Heart arrived the other day and I first got a glimpse of the bright papers and cute stamps. I knew I had to get busy with this challenge! I have a quilt in the making with yellows, blacks and whites and I'm sewing it on one of my vintage sewing machines which is gold, black and gray. So yep, I'm a little partial to this color combo.
Hope you have a wonderful weekend!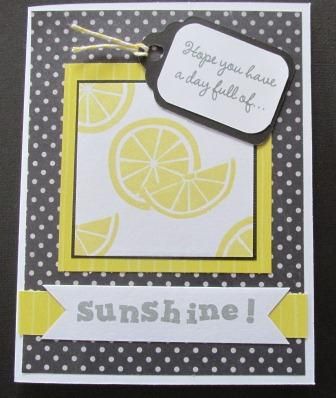 ctd339
Supplies used:
Black Polka dot paper: Colorbok Hopscotch
Lemon stamps: Taste of Summer (available in May)
Yellow paper: Taste of Summer (available in May)
Fun stuff. My first vintage machine.